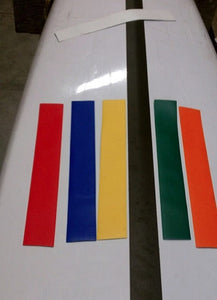 KeelEazy is priced by the FOOT. ($4 per foot)
2″ KeelEazy is a protective two-inch-wide by 1/32" thick strip made of PVC with an adhesive back. We cut your KeelEazy to order.
KeelEazy adheres to Polyethylene, thermoform ABS, and most marine varnish over wood. – available in black, white, red, orange, blue, green and yellow
Please enter the number of feet you would like to purchase in the 'Quantity' box.  We will cut your piece to the length you specify.